Document Storage Services in Orlando
Orlando document storage can free up office space, allowing you to store documents you might not use frequently, but need to retain for many reasons offsite and out of the way.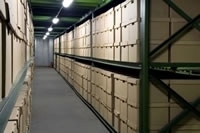 Orlando records storage centers give you the ability to access your files at any time, and there are even emergency retrieval services if you need a file that's stored immediately.
We provide Orlando records storage and retrieval services for any sized businesses. We can optimize your document retention plan, reduce the amount of space you use to store long-term documents in your office, and ensure you have all the access you need to obtain information quickly and efficiently- even if your documents are offsite.
For your FREE document storage quotes, simply fill out the form to your left, or just give us a call at (407) 217-1426 today!
Considerations to Keep in Mind When Searching for Orlando Document Storage
Simplicity & Cost Savings in Orlando
Are you using expensive office space to maintain your records? Let us organize your files for you, and give you more room to increase productivity. Offsite records storage helps you enhance the productivity of the employees who maintain your documents and eliminates some of the time and money you spend managing your documents onsite.
Access Control
Any records that contain personal or confidential information need to be secured and accessed by authorized personnel only. Secure records storage facilities only allow authorized persons to access and retrieve stored files, making it a viable solution for securing confidential files, personnel records, and important files related to your business.
A data breach is something businesses don't realize is a problem until it's too late. Security and access control It is crucial to keep your files out of the wrong hands and away from prying eyes.
Climate-Controlled Records Storage
We provide temperature and humidity-controlled storage for all types of document formats, and our storage area has a backup power source to make sure temperature and humidity are maintained even during a power outage. Climate controlled environments protect all kinds of information—and there's a good chance you don't have the same ability onsite in your office. We handle all kinds of media, including paper, film, magnetic tapes, and more.
Legal Compliance in Florida
Many Orlando businesses keep large amounts of records, while others discard critical information that should be kept. Records retention policies, along with document storage programs, can help you decide which files to retain and for how long as well as for deciding how to dispose of records after they are no longer needed.
Disaster Protection & Planning
Major catastrophes can destroy years of important business documents. Orlando Document Scanning can prevent the destruction of your mission-critical records by storing them at our secure facility.
Get Free, No-Hassle Quotes on Records Storage Services in Orlando and Surrounding Areas
Orlando Document Scanning offers secure records storage and record retrieval services throughout Orlando. For your FREE document storage quotes, simply fill out the form to your left, or just give us a call at (407) 217-1426 today!